Cycling routes in Wales
There are route maps and further information on cycling routes in Wales on the Sustrans Cymru website. We have been constantly amazed and delighted by the multitude of fabulous, life affirming cycle routes to be found on our doorstep. There's something here to suit all abilities and all types of cyclists, from gentle rides along the canal towpath to country lanes and more challenging hill climbs (perfect for cycling training). We personally have been bitten by the road cycling bug and have downloaded numerous routes on Strava which we are happy to share.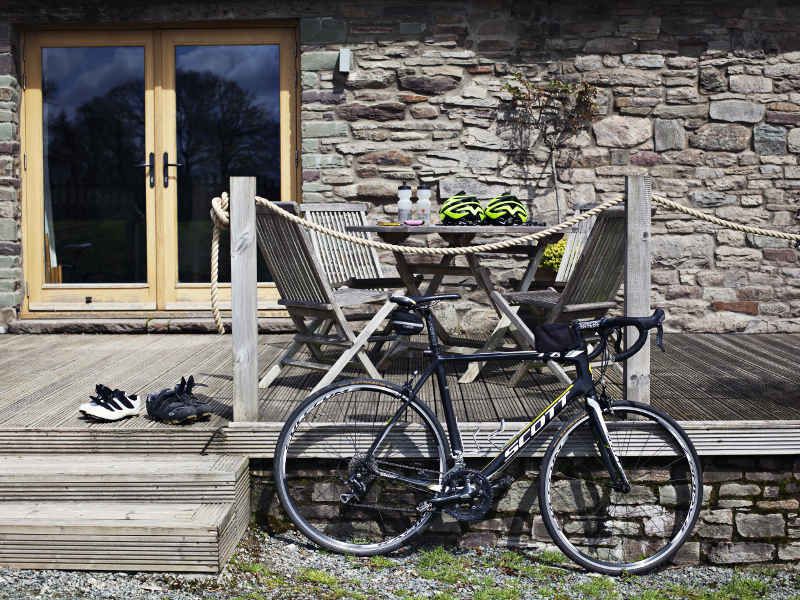 Fabulous cycle routes
If mountain biking is more your thing then you can peruse our guides or seek out Keith www.bikesandhikes.co.uk who will impart his vast wealth of knowledge and suggest suitable routes. If you've decided to hire bikes during your stay you won't go far wrong dealing with Keith. He'll even deliver and collect them from here.
Bike Park Wales is just down the road on the outskirts of Merthyr where many guests have whiled away an energetic day of activity.
We provide safe and secure storage facilities along with the wherewithal to carry out simple bike maintenance if required.
Top Road Cycling Routes in the Brecon Beacons
The following are a few suggestions taken from the Brecon Beacons tourism website. If you are looking for some inspiration for your next cycling adventure, then look no further.
These are quite short rides (1 to 2 hours), and take in some of the best scenery and quietest roads. You could always string a couple of them together for a longer ride…. You will need the OS map to work out the exact route, but here are some basic directions:
1. Llangorse Loop 30km
Leave Brecon at the roundabout by the Leisure Centre, take route 8 to T junction, then right into Groesfford, turn left towards Llangorse on the B road, but at the top of the hill turn right to Talyllyn – lovely views to R of the Beacons, and soon Llangorse lake is seen on the left.  At T junction turn R to Pennorth, and at the end left to Llangasty.  More views here and lovely downhill past Treberfydd.  Turn L at sign to Cathedine, and pass pretty cottages until you climb steeply to the road coming from Bwlch.  Turn left here and swoop along the undulations, into Llangorse (choice of 2 pubs if you are thirsty but our favourite is the Castle Inn) then after the pubs take the left to Llanfihangel, and a gentle climb back to the top of the hill you first climbed.  Flat out down the hill to Groesfford and left at the bottom, then turn right just after the underpass to return to town along the canal.
2.  Mynydd Meander 25km
Leave Brecon through Llanfaes towards Cardiff, and at the roundabout take the 3rd exit past the B&M store and Livestock market.  Climb gently for 5 km to cattle grid (Strava segment) then as you crest the top enjoy fantastic mountain views to your left. Enjoy the rolling narrow road for 9 or 10 km now until you reach a t-junction with the A4215.  Turn left and make the fast and easy descent to the main A470 just south of Libanus.  Cross the A road (slightly right/left) and take the small lane by the National Trust sign.  After a row of white cottages turn left and head back towards Brecon on tiny lanes with hedges thick with birds and wildflowers. There are several options here, best to keep R at the first junction, and then just follow your nose.  You will end up back in Llanfaes where you turn R back into town.
3. Aberyscir Adventure – 25 km
This time take the Cradoc road, climbing out of town for about 3km and turn left at Cradoc dropping down to Aberyscir and carry on towards Aberbran.  Just before Aberbran turn R signposted to Soar and start the first of 5 short climbs on this circuit. Pass some lovely woodland then drop down to Soar and turn right after you have passed all the houses. Start the next climb then as it flattens off and goes round to the left, turn right and climb again.  More nice woodland here, then drop into a stream valley and steeply up the other side. It feels quite remote now, as you climb again on seldom used lanes with grass growing up the middle. Eventually the road swings R and flattens momentarily.  There is still a bit more climbing after you pass a farm with sheepdogs on the left, but soon you emerge on to Aberyscir common, with massive views and a lovely descent back down to the village of Aberyscir where you turn left and rejoin the road from Cradoc. A few metres of easy climbing and then downhill all the way back to town.
4. Lunch at the Mill – 33 km
Start the same as route 1, this time follow route 8 all the way to Talgarth.  This is a hilly one with a few steep climbs, but lovely narrow lanes and very little traffic.
Lovely views when you top out at Penyrallt before the descent to Llanfilo.  When you reach Talgarth just head into the centre and you will find the mill near the Bridge Inn.  The Bakers Table cafe does brilliant light lunches and cakes. The return journey has a few options, none as hilly as the outbound route.  The shortest return is back the same way to the turn off from the B4560, but turn left almost immediately after this turn, and follow the very tiny lane via Tredwstan and Glyndwr, back to Llanfihangel.  From here it is a gentle climb back towards Brecon, and a fast descent to Groessford, where you can turn left and return via the canal tow path, or right back to route 8 where it ducks under the A470.
For a longer ride, stay on the B4560 to Llangorse and continue to Bwlch.  Turn left through Bwlch and right to Llangynidr on the bend coming down the hill.  (Take care as cars come fast round this bend) Down the hill to cross the Usk at Llangynidr on a lovely old bridge, then right to Talybont on Usk, and tea and cake at the Post Office if it is open.  Return to Brecon on the B road, or along the canal path.
Moderate, Traffic-Free Cycle Touring Routes in the Brecon Beacons National Park
There are six recommended moderate, traffic-free cycle touring routes in the Brecon Beacons National Park. They're perfect for a half day or full day cycle ride and a great way for you and your family or friends to get out into our beautiful countryside.
Didn't bring your bike? No worries. We have plenty of cycle hire operators and bike businesses that will deliver bikes to you or collect you and the bike once you have gone as far as you want.
These next routes vary in length from five to 11 miles. Some are nice and flat, while others include a bit of a climb. Why not start with the easy-going Brecon to Talybont Towpath route and build up from there?
A ride around the reservoir.
Start: Glasfynydd Forest, OS reference SO820271
Distance: 10km / 6 miles
Gradient: some hills
Time: 2hrs
Suitable for: 5 years plus, more robust hybrid or mountain bikes
Parking: large car park at Glasfynydd Forest
Public toilets: none
Other facilities: picnic tables at Glasfynydd Forest
Family attractions: Carreg Cennen Castle, Red Kite Feeding Station at Llanddeusant
Cross the road from the car park and go through the gate to follow the red cycle trail waymarks. Now continue to follow these all the way around the reservoir, across the dam and along a short section of road. More signs point back into the forest and then back to the car park.
A woodland ride.
Start: Garwnant Forest Centre, OS reference SO003130
Distance: 8km / 5 miles; 
Gradient: some hills; extension is very hilly
Time: 1.5hrs; plus 3hrs for the extension
Suitable for: all ages, all types of pedal bike
Parking: large car park at Garwnant Forest Centre
Public toilets: at Garwnant Forest Centre
Other facilities: play area, cycle skills course, café
Family attractions: National Park Visitor Centre
Head back to the car park entrance and follow the cycle trail signs to the right. crossing a narrow lane at half distance. Turn left at Llwyn-Onn Reservoir to return to the forest centre.
Talybont Reservoir to Torpantau
The beauty of this ride is that it's uphill on the way out and downhill on the way back to finish. It's a challenge to get to the top but at least you can freewheel back. The scenery is outstanding and worth the effort.
Start: Talybont Reservoir dam, OS reference SO103205, or car park, OS reference SO099197
Distance: 9km / 5.5miles each way
Gradient: long, steady climb
Time: 1.5hrs outward and at least 30mins back
Suitable for: all ages, all types of bike
Parking: large car park 400m from start
Public toilets: in Talybont-on-Usk
Other facilities: occasional ice cream van at dam, several pubs in Talybont-on-Usk, café
Family attractions: Henry Vaughan walk
From car park turn right for half a mile then turn right and cycle across the dam, then turn right to follow Taff Trail signs up into forest. Continue as far as you like or until you reach a gate that leads out onto the road at Torpantau. To return, retrace your tracks.
Llanfoist to Clydach Gorge
A well surfaced section of traffic free cycle path that can be ridden in its entirety from Llanfoist to Clydach. Follows the course of an old railway line, views from the canal on the lower section and across the Clydach Gorge are spectacular.
Start: Llanfoist Crossing, OS reference SO286132
Distance: 7.5km / 5 miles each way
Gradient: long, steady climb with one very steep section near the end
Time: 1.5hrs outward and 1hr back
Suitable for: most bikes except tandems and other long/wide bikes.
Parking: large car park at Llanfoist Crossing
Public toilets: in Abergavenny
Other facilities: none
Head through the gate at the top of the car park and follow the well-marked trail upwards, passing close to the canal. Keep ahead at Govilon, where the trail passes through houses and crosses a public road and then passes the Forge car park before starting to climb steeply up towards Clydach. There's a section on public roads before the railway climbs to Brynmawr.
Goytre Wharf to Llanfoist
A longer and slightly tougher cycle ride but mainly level. Should be in the scope of most cyclists, even youngsters. A scenic ride, skirting around pretty farmland with great views of mountains in the distance. For a really challenging day out it can be linked with National Cycle Route 46 at Llanfoist.
Start: Goytre Wharf, OS reference OS312063
Distance: 9km / 5 miles each way
Gradient: mainly level
Time: 1.5hrs
Suitable for: all ages, all types of bike
Parking: large car park at Goytre Wharf
Public toilets: at Goytre Wharf
Other facilities: Café and play areas at Goytre Wharf
Head past the buildings and through a short tunnel (aqueduct) under the canal, then turn left to access the towpath. Continue along this route until you come to a zig zag path, between Llanfoist and Govilon which takes you down onto the old railway line, the National Cycle Route 46.
A lovely flat section of canal towpath that ends at a working lock and beautifully situated picnic area. There are no navigational issues as the ride follows the canal the whole way and no traffic worries.
Start: Brecon Canal Basin, OS reference SO046282
Distance: 9km / 5.5 miles
Gradient: level
Time: 1.5hrs each way
Suitable for: all ages, all types of bike
Parking: Large pay and display car park at Brecon Canal Basin
Public toilets: in Brecon
Other facilities: picnic area near Brynich Lock, plenty of cafés, pubs and hotels in Brecon.
Family attractions: Cantref Adventure Farm & riding centre, The Borderers Museum, Brecknockshire Museum, Brecon Leisure Centre.
From the car park, head across the access road to the start of the canal and follow the tarmac track along the right hand bank, with the water to your left. This then drops to the towpath by the first bridge. Now follow this all the way to Brynich Lock where a gate gives access to a narrow lane. Cross the lane for the picnic area. To return, retrace your earlier tracks.
Cycle Across the Beacons
Cycle across the Brecon Beacons National Park using our new touring route, running from Llandeilo in the West to Abergavenny in the East. This new route follows a Roman Road with panoramic views of the Central Beacons, it winds along  lovely country lanes before joining the pretty tow path by the Monmouthshire and Brecon Canal.
Long Distance Cycle Touring Routes in the Brecon Beacons National Park – The Taff Trail and Lôn Las Cymru
Two long-distance National Cycle Routes cross the Brecon Beacons National Park, the Taff Trail and Lôn Las Cymru. Whether you're planning a ride lasting just a couple of days or setting out on a journey of 300 miles or more, our Park is a convenient and scenic place to start or finish.  
National Cycle Route 8, The Taff Trail
Distance: 88km / 55 miles
The Taff Trail leads from Cardiff to Merthyr Tydfil, Talybont Reservoir and Brecon.
It's a mainly traffic-free route that takes in the sights of Wales' vibrant capital before heading to the cradle of the Industrial Revolution and ending in the beautiful Brecon Beacons National Park.
It starts in Cardiff Bay, home to some fantastic attractions such as the Doctor Who Experience. Just a short ride away, you're transported from cosmopolitan Cardiff to rural heaven. Cycle eight relatively gentle miles along a disused railway line that follows the Taff corridor, to a region of crashing weirs rich with wildlife, impressive mountain backdrops and the picturesque Castell Coch perched on the mountainside.
On the trail, there are plenty of pretty places to stop and picnic before arriving at the industrial heritage town of Pontypridd. Here you will find a museum, a historic old bridge and the tranquil Ynysangharad War Memorial Park.
Back on the trail, head for Merthyr Tydfil, a town built on iron and coal, and home to the magnificent Cyfarthfa Castle. Visit the Castle's museum and art gallery before climbing steadily up the Torpantau Pass where you'll discover the old Merthyr Railway. Drop into the pretty vale of the Usk, close to the small village of Talybont-on-Usk. Then pick up the Brecon and Monmouthshire Canal at Brynich Lock and follow the old towpath into the centre of Brecon.
The surfaces are good throughout and there are plenty of places to stay along the way if you don't fancy doing the whole thing in one day. Using Beacons Bus you can catch the bus to Brecon with your bike following on the trailer and then cycle back to Cardiff.
From Brecon, it's possible to continue east on quiet roads, passing through Talgarth, Felindre and finally Glasbury, where you can join route 42 (Lôn Las Cymru) on the banks of the River Wye.
Barney and I have done this lovely route a few times travelling in the opposite direction, starting off in Brecon and ending up in Cardiff before arranging for Big Mike Taxis to come and pick us and the bikes up and bring us home.
National Cycle Route 42, Lôn Las Cymru
Distance: 400km / 250 miles
Lôn Las Cymru takes cyclists north from Chepstow to the Brecon Beacons National Park, then northwest across Wales to Holyhead.
Starting at Chepstow, on the banks of the River Severn, Lôn Las Cymru enters our National Park near the bustling market town of Abergavenny, which makes an ideal stopover before the steady climb up into the magnificent Black Mountains.
Leaving the River Usk behind, the trail follows delightful quiet country lanes north into the beautiful Vale of Ewyas, where it passes close to the atmospheric ruins of Llanthony Priory, much loved by artists including Turner.
More quiet lanes lead north to the tiny hamlet of Capel-y-Ffin, where the way climbs out onto open hillsides for the final push up to the spectacular 542m Gospel Pass, with marvellous views over the lowlands of the Wye Valley. From here, the trail drops sweetly into the Valley. It links with National Cycle Route 8 at Glasbury, on the banks of the mighty River Wye itself.
Stay Safe when Cycling and Mountain Biking in the Brecon Beacons National Park
To get the most out of your time on two wheels in the Brecon Beacons National Park, we recommend that you follow our top tips for safety and good practice.
Take care
Always wear a helmet
Ride within your capabilities and skills and allow plenty of time for your ride
Before setting out, ensure your bike is safe by checking tyres, brakes and gears
Tell someone where you are going and what time you intend to return.
Take the appropriate OS map, compass, basic first aid kit, food and money
Tools
Always carry a basic tool kit: a cycling specific multi-tool is best, but if not you will need 4mm, 5mm and 6mm Allen keys, small flat head and Phillips screwdrivers
Also make sure you carry a pump, tyre levers, puncture repair kit and some spare inner tubes – it is easier to replace a tube than to fix a puncture
 Clothing
Make sure you are prepared for all weather conditions by wearing several layers of clothing that can be adjusted
Take a lightweight waterproof jacket, even in fine weather
Padded cycling shorts can be worn under leggings in cold conditions
 Right to ride
In the UK, the only places where you can legally ride off-road are byways, bridleways, National Cycle Network routes (www.sustrans.org.uk) and designated trails on private land such as forests, mountain bike centres and the banks of reservoirs.
Cyclists and mountain bikers must give way to horses, riders and walkers on bridleways, towpaths and other footpaths. 
Code of conduct
Many different people live in the Brecon Beacons National Park or come here to enjoy all sorts of pastimes. Please be considerate and courteous to all those you meet en route. It's particularly important to slow down and give way to pedestrians. The same goes for to horse riders: failure to do so can result in horses being terrified, bolting and the rider being seriously injured. Also, bear in mind that the Brecon Beacons is a National Park and that we all have a duty to conserve the natural beauty of this special place.

Give way to pedestrians and horse riders
On public roads, respect the rules of the road
Don't interfere with wildlife, plants or trees
Keep to published routes
Always leave gates as you find them
Take rubbish with you
Don't light fires
Keep away from Forestry operations
Expect the unexpected
Avoid back wheel skids which can start erosion
Slow down when approaching and travelling through farmyards